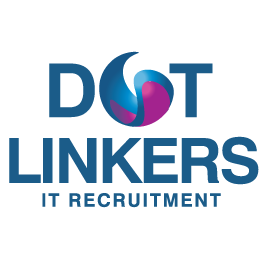 dotLinkers Records A New 5-Star Rated Review On Clutch
We all know that the primary purpose of a recruitment agency is to help job seekers find new roles while assisting companies in finding the perfect person for their open positions. Unfortunately, few people realize all the other benefits of using a recruitment agency. Here are the advantages you can expect working with a recruitment agency.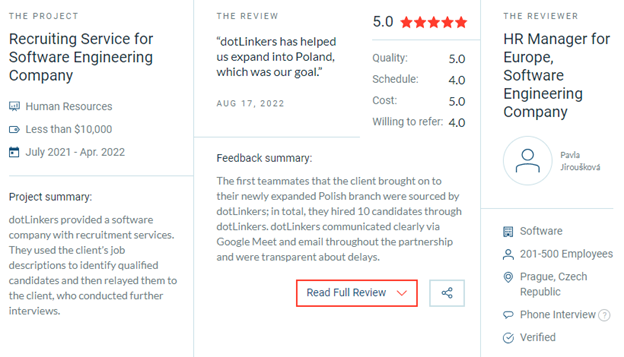 Faster hiring

Specialist recruitment knowledge

High-quality candidates

Focus on serving the client

Knowledge of the market

Extended reach
At dotLinkers, we attract the best IT talents by selecting the Clients we work for. These are the best cutting-edge startups and product companies. Our IT Recruitment in Poland formula is to link the best IT Talents with the best IT companies from all around the world. This way can offer excellent job opportunities and attract the highest talent.
Success breeds success. Cutting-edge companies appeal to job candidates with advanced skills, and we are passionate about putting the two together to make a perfect fit. We take IT Recruitment in Poland very seriously, and we are ready to take your company to the next level thanks to our experience and expertise.
We recently recorded our newest 5-star review on Clutch, a B2B ratings, and reviews site. One of our clients, a software engineering company, worked with us when they started their new company.
The client provided us with the requirements for the roles they needed. We analyzed potential candidates and relayed relevant information like candidates' CVs, salary requirements, and experiences.
"Our cooperation with dotLinkers was very good — we had weekly calls with Natalia, where she was very transparent and clear about the project. When we had no candidates around the holiday season, she was very transparent about it instead of hiding it." – Pavla Jiroušková, HR Manager for Europe, Software Engineering Company
In addition to this fantastic review, dotLinkers was featured on The Manifest as one of Warsaw's leading IT services recruiting companies. A sister company to Clutch, The Manifest gathers and verifies the complex data, expert insights, and actionable advice you need to build your brand and grow your business – to provide the practical business wisdom that manifests in your success.
It's always gratifying to receive such a lovely review from our clients. We constantly push ourselves to deliver quality services to our clients, and we are happy to see them succeed in their endeavors.
Our team is one of the most experienced and best in Poland's IT recruitment industry. What are you waiting for? Work with us now!